Tin Bath and Furnace Cooler Fabrication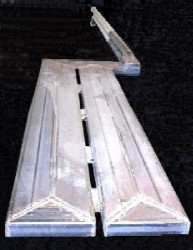 Resources Unlimited produces a wide variety of coolers for use in Tin Baths and Furnaces in glass plants all over the world. We can build any type of cooler you need to meet your requirements. Although the cooler designs vary, at Resources Unlimited we pride ourselves on putting the same quality workmanship into every cooler we produce. We stand behind our work

All cooler welds are leak-checked at 100 PSI air over water for 8 hours to assure that that the coolers arrive in good condition and ready for use in your system. We can modify our testing procedure to use meet your pressure and time specifications, needs and requirements. Coolers are crated for shipment to you in boxes built to protect them with all pipes capped to protect the threads. We have a long history of building coolers of many types and styles for glass manufacturing facilities all over the world. We know how to work with you and accommodate your needs.
Give us the opportunity to work with you on your next cooler project and we will prove our fabrication skills and corporate integrity. Once you give us the opportunity to assist you, we're sure that you will be happy you did. Please contact us so that we can discuss your glass production manufacturing needs.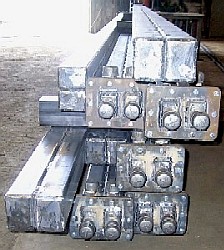 Ordering Information
Please contact for more information on our Cooler pricing. Note that we
cannot
accept credit card payments, except through PayPal. There is a processing fee on all PayPal orders.
Shipping Information
All Pricing FOB Carleton, Michigan US. All US shipments are sent UPS. Note that all orders require and additional charge for the purchase of a custom-built shipping box required for shipping.
Overseas Customers
Please contact us to discuss shipping arrangements. The Harmonized/Schedule B ID we use for most coolers is #7306.61.6500 .
Please note
that we require payment in advance for new oversea customer orders.
Fabricated Cooler Photos
To view a large photo of some of the coolers we've fabricated in the large window, click on the photo in the strip at left.