Glass Tin Bath Duck Foot Coolers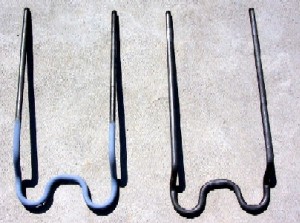 Our distinctive Duck Foot Tin Bath Coolers are designed to provide the maximum cooling when placed in float glass line tin baths. They are designed to cool the tin from the underside by passing water through the stainless steel pipes as they rest in your liquid tin bath.
These Duck Foot Tin Bath Coolers are made from a single piece of stainless steel which is specially bent to provide their distinctive shape. They are pre-threaded for attachment to 1" hose connections. Because they are formed from a single piece of tubing, they have an advantage over welded construction: they do not have internal weld points where water impurities can potentially collect and create failure points in the cooler. Other tin bath coolers with welded points have a much greater potential for pressure leaks.

We can also coat them so that they will better withstand contact with liquid tin. Our standard, double toe cooler can also be modified to meet your specific requirements. Click on the Custom Duck Foot Cooler tab below for more information about customized coolers.


Technical and Ordering Info
Custom Duck Foot Coolers
Technical Information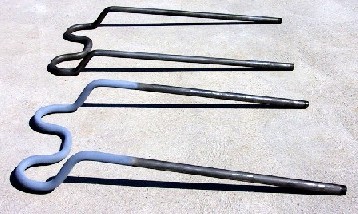 Our Tin Bath Duck Foot Coolers are bent from a single piece of 1" Schedule 40 Type 316 stainless steel. To provide additional protection from liquid tin, they can be coated with ceramic Metco 101 (the cooler on the bottom of the photo at right is an example of a Duck Foot Cooler that has been coated.) Many customers have reported satisfaction with the extended life of our coated duck foot coolers.
To see a drawing of our standard Duck Foot Cooler, click
here
.
Ordering Information
Please contact for more information on our Tin Bath Cooler pricing. Note that we
cannot
accept credit card payments, except through PayPal. There is a processing fee on all PayPal orders.
Shipping Information
All Pricing FOB Carleton, Michigan US. All US shipments are sent UPS. A standard Duck Foot Cooler weighs 34 pounds (15.4 Kilos). A Half Duck Foot Coolers weighs 24 pounds (10.9 Kilos). Please note that all orders require purchase of a custom-built shipping box costing $218.
Overseas Customers
Please contact us to discuss shipping. The Harmonized/Schedule B ID for the Tin Bath Cooler is #7306.61.6500.
Please note
that we require payment in advance for new oversea customer orders.
Custom Duck Foot Coolers
Do you require something different than the standard Tin Bath Duck Foot Cooler you see on our pages? We are more than happy to tailor our product to meet your design needs. We have built them using different materials, shorter and taller offsets, wider center distances and various leg lengths. We have even built them without their distinctive toe configuration. One example of our ability to customize Duck Foot Coolers is is the Half Duck Foot
Cooler shown here. It is used for smaller spaces and cooling requirements. If you have an application-specific requirement, please feel free to contact us and so that we can help meet your specific cooler requirements!