Production Line Roll Rebuilding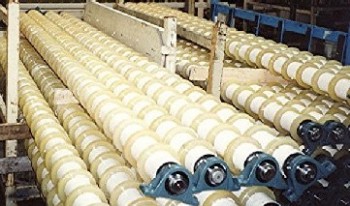 If you have a production line moving flat materials like glass, you probably require a lot of rolls to get your product down your production line. Many production lines run 24/7, which takes it toll on your rolls. When these rolls need to be replaced, why not refinish them rather than throwing your worn rolls out? It's often much more cost-effective than installing new rolls.
At Resources Unlimited Company, we have been rebuilding rolls since the founding of our company. We've rebuilt thousands of rolls of all types including tire, solid surface, donut and O-Ring style rolls. Our knowledge includes repair of rolls with finned tires, urethane donuts, solid Carbox/Kevlar, Neoprene, as well as other materials. We make sure that the roll surface meets your size and durometer needs. In addition, we can supply your mechanical roll needs including bearings, sheaves and gears. We have an extensive network of sources for roll-end hardware. If we can't find the part needed, we will make it.


Ordering
Procedure
Photos
Ordering Information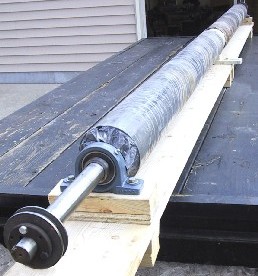 Rolls are rebuilt as required by your individual processing requirements. See the procedure tab for more detail on how we rebuild standard rolls. Because your company's requirements are unique and the rolls need to be finished in materials that meet you line's particular needs, we ask that you contact us so that we can work with you to tailor our service to your needs.
Shipping Information
All Pricing FOB Carleton, Michigan US. All shipped orders require purchase of a custom-built box that is designed to protect your rolls - whether traveling by truck, air or sea.
Overseas Customers
Please note that we require payment in advance for new oversea customer orders.


Roll Rebuilding Procedure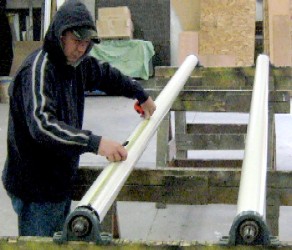 During roll rebuild, we begin by measuring surface dimensions, tire and hardware placement and gathering all the information to re-create the roll. Your rolls are then stripped and cleaned. If existing roll end parts are to be re-used, they are power-cleaned and then checked for to make sure they are working properly and are within tolerance. Roll journals and shaft keyways are then checked. If repair is required, they are professionally rebuilt. If needed, rolls are center-drilled for optimal machining. When the roll straightness is outside of your line's tolerance requirements, the roll is straightened.
Rolls that requires tires have the tires pressed on. They can be glued in place if required for you application. Solid cover rolls have the covering replaced. Once roll surfacing is complete and verified to be within tolerance, all gearing, sheaves and bearings are installed as specified. The roll surface can then be painted the color you specify so that it matches your line if necessary.
Each roll is then wrapped to protect it in preparation for delivery. Any markings or labels you require for your maintenance or crib reference are applied.
Roll Rebuilding Photos
To view a large photo of some of the rolls we've rebuilt in the large window, click on the photo in the strip at left.