Services
Since the beginning, Resources Unlimited has focused on providing outstanding service to our customers. Do you need something designed and fabricated for the next day? Ask us. Having trouble with the engineering details on a project? We will provide insight and design using our employees' experience in the glass manufacturing industry. If we don't know how to solve your problem, we will find out. This is why we call ourselves Resources Unlimited - when we don't know the answer to your question, we have an extensive network of resources - including people, skills, contacts and facilities - that can help us to help you.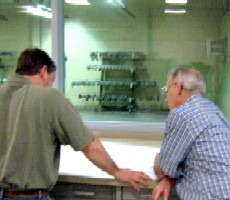 We provide many services including:
Machining

On- and Off-Site Fabrication/Welding

Slotting
Straightening

Urethane Donut Casting
Solid Roll Recovering

Assembly

Installation
Cabinet Building
Electrical Panel Wiring and Set-up

Prototype Development

Design

Engineering
Engineering Drawing
Machine Tool Sales

On-Site Services

Rapid Turnaround Jobs

Custom Woodworking
On-Site Troubleshooting
Turnkey Projects
Our mission is to provide you with the excellent quality and fast, efficient service. Contact us today to learn more. You'll be happy you did.